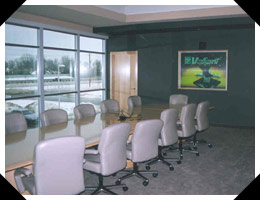 The Scenario
Commercial company with various products to display, predominantly computer based.

The Problems
On screen displays for the products are difficult to read due to relatively small size, however the large computer monitors take up significant display space.

Row upon row of computers and accessory products is unappealing and contrary to the desired look and professional image of the company.

The Solution
Various display "zones" are established to focus on various product groupings. Large, flat screen displays (only a few inches thick) are used to increase functionality and visibility while greatly reducing display space. The new technology displays help to position the leading edge vision of the company.


The Result
Clients are now able to enter the presentation area to explore more products (due to less wasted space). The initial impact upon entering the area is very high due to the high tech look, but the simplicity of the operation and ease of use for the customers helps increase sales. Customers who are not intimidated by the products feel at ease using them, and have fewer purchasing objections.