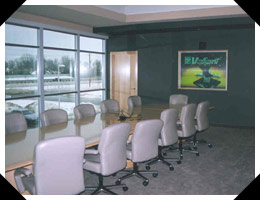 The Scenario
1 Board Meeting
3 computer presentations
1 VP stuck in a hotel 1000 miles away due to a cancelled flight
2 participants in your manufacturing facility south of the border
1 major investor as a special guest

The Problems
The stranded VP is returning from a visit with a key customer and has important product feedback. Their input is vital for some of the pending decisions. The participants in the manufacturing facility have a solution for a major design issue but they need board approval and need to be able to demonstrate the nature of their solution. The investor wants to know that the company is on track (and growing their investment).

The Solution
Bring it all together with your boardroom system. Simply touch a key on the wireless video panel and set up a telephone conference with the participant in the hotel. When you are ready, touch another key to display the computer presentations (each participant simply plugs their laptop into a connection in the board room table.) Bring the participants from the manufacturing facility to the meeting via video conference – simply touch another key on the wireless panel.

Video appears on the projection screen automatically – no need to connect wires or fiddle with various remote controls. Don't worry if it it wasn't turned on – if is wasn't, it will be turned on automatically – because– you have more important things to worry about.

The Result
One very effective meeting and one very impressed investor!